Late 2016, the approval was granted by Flanders Innovation and Entrepreneurship (VLAIO) for 14 other IBNs (more info here) to set up and roll out an Innovative Business Network(IBN) or innovation cluster targeting the offshore wind, wave and tidal energy sector in the Flanders region. The three year cluster project is set up and managed by Sirris. Ghent University, Vrije Universiteit Brussel (VUB), and Agoria are project partners in rolling out this innovation cluster. This new initiative has been launched to promote and support research, development and innovation (RD&I) projects in the Flemish offshore energy value chain. While there is a central focus on offshore wind energy, its scope also includes wave and tidal power applications.
Innovative business networks aim to generate an innovation dynamics within a group of companies and knowledge centers. Close cooperation between the industry and the research community is supported and motivated to implement a concrete plan of action at companies with demonstrable economic added value. By means of clustered actions (technological & market) knowledge can be linked more effectively to the actual implementation, while market-oriented R&D investments are supported via demonstration, new value chains can be realized by means of integrated solutions and the Flemish content can be represented in international forums on research, development and innovation.
Topical roadmap
We focuse on a number of industry driven topics in the cluster activities. We keep track of the market and technology developments within these themes and informed our members on the current RD&I calls. In addition, we facilitate matchmaking between members regarding these themes and look for opportunities for tackling mutual challenges and opportunities (cluster actions). We also look for international collaborations when linked to our topical roadmap.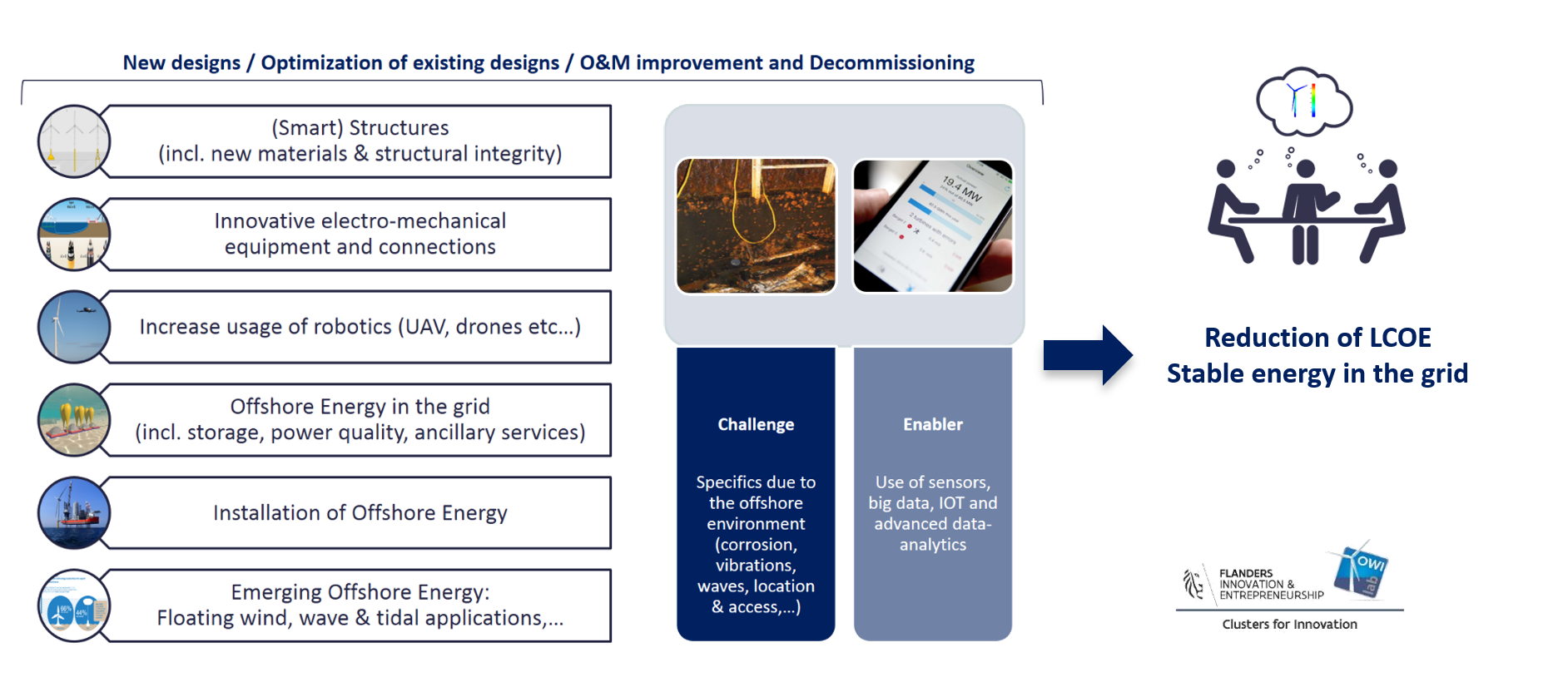 To whom and what to expect?
IBN Offshore Energy addresses companies that market products and services in the offshore power industry (wind-wave-tidal) or that are interested in starting to do so. Both SMEs, start-ups, large companies, ports and R&D intensive & innovation-aware organizations can be part of the network.
As a member of this network (>50 companies) you will receive support with market and technology knowledge that help you convert ideas into concrete opportunities and business. You will get an explanation about the potential of cooperating with a customer or supplier in Flanders, or in Europe and you will be able to count on help with your subsidy application in support of your innovation. In regard to innovation subsidies our team will consult in the ideation, concept evaluation and proposal planning of your ideas.

More info can be found at: http://www.offshoreenergycluster.be/

Member companies can folow-up the cluster's activities also via a closed Linkedin-Group: https://www.linkedin.com/groups/13517903/
If your company / organization wants to be part of the IBN Offshore Energy cluster, contact pieterjan.jordaens@owi-lab.be