Take advantage of a unique test facility where companies can test and validate the performance, reliability, and robustness of large and heavy wind turbine equipment up to 150 tons under extreme climatic conditions from arctic cold conditions (-60 °C) to desert heat (+60 °C).
This unique test infrastructure has been tailored to the needs of the wind power industry, embedded in the services offered by Sirris.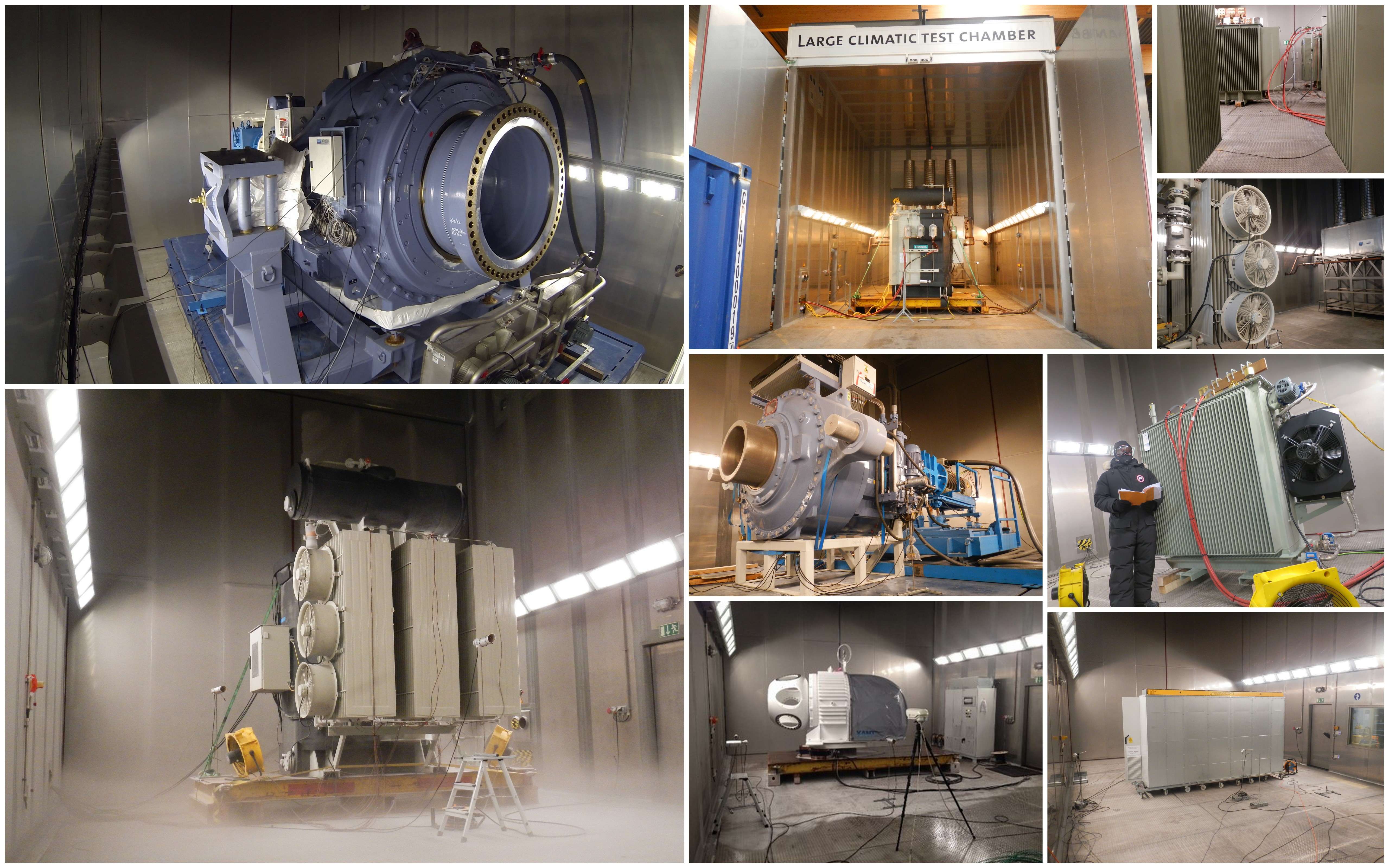 The large climate test chamber and its associated testing services have been designed with several unique features, to facilitate the needs of the wind power industry. Wind turbines are currently installed globally – sometimes in harsh climatic environments such as cold and icy climates (Scandinavia, China, Russia, Inner Mongolia, China,…) or hot and tropical environments (Middle-east, Australia, South America,, …). To guarantee optimal performance of wind turbine components, even in the most extreme climatic conditions, the survival capabilities and operating limits of prototype machinery need to be tested by the use of climate chambers for design validation purposes or certification purposes.
Extreme temperature levels from -60 °C to +60 °C, temperature cycles, humidity up to 95%RH, solar infrared heat between 10 - 950 W/m², and icing conditions can be tested in a controlled environment. A unique feature is the ability to test large and heavy machinery up to 150 tons in the 10.6 m x 7 m x 8 m large climate chamber. The large climate chamber has been installed at a break-bulk terminal in the Port of Antwerp, enabling easy water, train, and land logistics, and quay handling of the targeted test specimens.

Summary of features of the large climatic test chamber:
Dimensions: 10.6 m x 7 m x 8 m
Capability to test >150 ton equipment
Temperature range: -60 °C to +60 °C
Thermal cycling possibilities
Thermal camera to monitor test campaign in extreme temperatures
Humidity testing possibilities between 5%RH to 95%RH
Solar infrared-heat test possibilities between 10 to 950 W/m² (3 m x 3 m array)
Large cooling capacity for heavy equipment
Ice-spray testing possibilities
Cold start-test-up bench for gearboxes available (10 kNM break-away torque)
Flexible power set-up 50 Hz/60Hz up to 10 MW for electrical testing load testing
The climatic test facility is specialized in the testing of wind turbine components and integrated sub-assemblies, such as wind turbine drivetrains (gearboxes, generators, main bearings, journal bearings, …), transformers (liquid filled or cast resin), power convertors, pitch & yaw systems, and hydraulic systems in general. Digital twin methodologies can also be tested by the use of the climate chamber.
A specific focus of the testing facility can be found in the testing of cold-start-up sequences, lubrication effects in low temperatures, cold climate, and winterization effects, and the effect of icing conditions on large equipment. The facility also tests ice detection systems, anti-icing (coatings), and de-icing systems.
Supported testing standards and guidelines for test and validation purposes in the large climate chamber:
 
Guideline DNVGL-RP-0363 - Extreme temperature conditions for wind turbines
Guideline DNVGL-OS-A201 - Winterisation for cold climate operations
NEN-EN-IEC 60068-2-1 (cold)
NEN-EN-IEC 60068-2-2 (dry heat)
NEN-EN-IEC 60068-2-14 (change of temperature / thermal cycles)
Cast resin transformers testing ; class C1 (-5 °C) ; C2 (-25 °C) ; C3 (-45 °C); C4 (-60 °C)
NEN-EN-IEC 60068-2-30 (damp heat)
ISO 19897 (conditions of icing tests related to shipbuilding & marine structures)
Thermal shock test according to IEC-60076-11 / GOST-R 54827
AECTP 230
MIL-STD-810G
NATO STANAG
DEF STAN 00-35

Discover our large climatic test chamber and the associated services in this video or read about inspiring case stories in this Think Tank article about 'cold climate testing' published in PES Wind Magazine.