During his keynote presentation at the 'Back to the future' seminar on 30 June Danish wind turbine inventor Henrik Stiesdal will talk about past & future evolutions in (offshore) wind energy.
On Wednesday 30 June, the 'Back to the future' seminar, as a part of the Wind Energy technology Summit 2021, will take place. This seminar will look back on the developments of the past 20 years in the onshore and offshore wind sector - which lessons can we learn from the recent history towards the new green deal and the ambitious international renewable energy targets for 2030 and beyond?  
The steep learning curve of the wind turbine industry has been a unique trajectory in history, its successes will be highlighted and explained by professionals from the industry. But there is still work ahead towards the further upscaling of the power range, decreasing costs and increasing reliability and efficiency of wind farms. Although the technology matures, certain challenges remain, such as power intermittency, or are introduced by exploring new markets, such as in floating wind power for example.
We therefore also look towards the near and the long-term future, especially in respect to technological developments towards 2030 and 2050. What will the future developments and innovation mean for the value chain, which new needs arise and which topics should be targeted by researchers during the coming years? Experts, early adopters and innovators from the sector, including Luc Vandenbulcke (CEO DEME), Bert Verdyck (Head of technology at ZF Wind Power) and Henrik Stiesdal (CEO Stiesdal A/S), will provide keynote presentation to share their insights with you. You will be inspired for sure ! 
Henrik Stiesdal, Danish inventor, innovator and business man in energy transition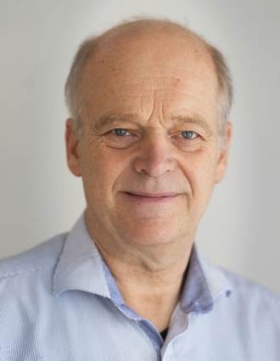 We are proud to announce that Henrik Stiesdal will be our keynote speaker and international guest during the back to the future seminar. As one of the pioneers of the modern wind industry (with around 200 inventions on his name and more than 1,000 parents awarded) he's the ideal person with the right track record to shed a light on this seminar.  
Henrik built his first wind turbine in 1976 and in 1978 he designed a commercial turbine that was licensed by Vestas in 1979. Later on, he worked with Vestas until 1986 and joined Bonus Energy, later Siemens Wind Power in 1987. In 1988 he was appointed Technical Manager, and in 2000 Chief Technology Officer at Siemens Wind Power. He retired from Siemens at the end of 2014. During his more than 40 years in the wind industry Henrik Stiesdal has worked with all aspects of wind turbine technology, including fundamental research, turbine design, manufacturing, sales, project implementation, service, and quality management.
His inventions include Siemens's integrated blade manufacturing concept and the direct-drive generator technology. Also, he was responsible for the turbine design and supply for the world's first offshore wind farm in 1991, and for the world's first floating offshore wind turbine in 2009.
Henrik is not retired yet, on the contrary, he is currently focusing on the development and commercialisation of different new technologies to combat climate change through the innovative technology start-up Stiesdal A/S. These technologies include new industrialised offshore wind turbine foundations for floating wind power, mid-term energy storage by the use of hot rocks, low-cost green hydrogen production and carbon-negative fuels. The start-up recently secured the necessary funds to execute its growth trajectory with a 'Triple-digit million investment' from PensionDanmark.
The TetraSpar floating foundation prototype (a so called tetrahedral tubular steel platform), backed by Shell, RWE and Tokyo Electric Power Company (TEPCO) has recently been fitted with a Siemens Gamesa 3.6 MW turbine and will head for sea-trial testing in Norway this summer at the MetCentre offshore testing zone.
Another invention is the development of the GridScale hot-rock energy storage system. This thermal energy storage system is using crushed stones to store heat for ten hours to ten days. Next, Stiesdal A/S is working on a HydroGen electrolyser using low-cost materials and quick scale-up possibilities in respect to manufacturing. To finalise, Stiesdal's SkyClean aviation fuel is making use of pyrolysis technology to produce carbon-negative aircraft fuel.
We look forward to Henrik's expert insights during this seminar, and we hope you'll join us for this interesting keynote speech!
Artist impression of Stiesdal's hot rock storage facility
Sources
(Picture above: Stiesdal's floating wind turbine prototype ready for field-testing in Norway - Source: KrogFoto, via LinkedIn)